When it comes to your home, being bug-free is important. Not only for health reasons, but also the peace of mind that comes with knowing your home isn't also home to a variety of bugs and pests. Allied's residential pest control options are flexible and reliable.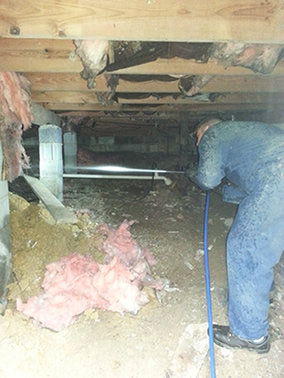 The first step to residential pest control is to have a good inspection done of the property, and Allied offers free inspections as part of our general services. We can't formulate a good extermination and follow-on control plan without knowing what types of bugs we're dealing with.
After determining the type of pest that is bugging you, we will work with you to come up with a residential pest control plan that works for your specific needs. We always work to formulate a pest control plan that not only works, but is also green and eco-friendly. We want to kill the bugs, not the environment.
Once a plan is in place, our highly trained professional exterminators will treat your property. Our exterminators always make sure to communicate with our customers throughout the residential pest control treatment process to ensure there are no questions or concerns.
Once treatment is complete, the exterminator working with you will explain what was done and recommend an appropriate follow-on program, if needed. Though a follow-on appointment or preventative maintenance program may be recommended, our residential pest control services do not require follow-ups or contracts.
Click for full Residential Pest Management information: