We individualize pest control programs that work for you. No two treatments are the same. Having a personalized plan helps ensure we handle each bug problem using the proper methods for the situation. You are number one with Allied Termite and Pest Control.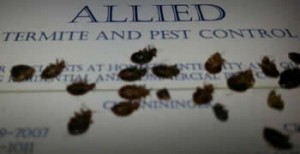 We offer pest control and extermination treatments for customers with no contracts or follow-ups required. We also offer preventative maintenance programs, such as bi-monthly, monthly, quarterly, and semi-annual pest control and extermination services. Treating bug problems is what we do. Our certified professional exterminators will assist you in determining which maintenance program is best for you and your home or building.
Every bug and pest problem is different and we want to ensure you receive the best bug extermination treatment possible to take care of you and your pest control needs. Contact us today if you live in the Roanoke, Virginia or Southwest Virginia area and we will assist you with all your bug control needs.
Treating:
Carpenter Ants
Pharaoh Ants
Odorous Ants
Roaches
Centipedes
Millipedes
Fleas
Mosquitoes
Earwigs
Silverfish
Spiders
Crickets
Carpenter Bees
Bed Bugs
Lady Bugs
Stink Bugs
Mice
Rats