Allied Termite and Pest Control's exterminators can eliminate your bug problem!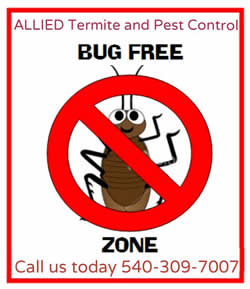 Offering free inspections, real estate inspections, termite and pest extermination and control, and moisture control, we can take care of all your pest and bug needs. Based out of the greater Roanoke area of Virginia, we are proud to be a family owned and operated exterminator business. We are flexible and quick to respond to your pest control needs. We are fully licensed and insured exterminators and we offer a wide range of services.
We are experts in the extermination industry with over 15 years of experience. We thrive to be a leader in the industry, staying on top of the latest and best treatment technologies for which our exterminators receive advanced training. If you are having a bug problem, we can exterminate it. Contact us today for more information on how we can help eliminate problems with bugs in your home or building.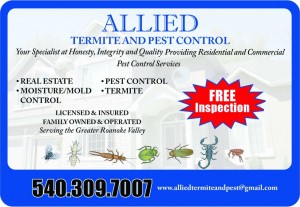 Not sure what pests you're seeing in your home or building? Take a look at our Pest Reference to help you identify the problematic bugs. If you do need to have bugs exterminated, our exterminator professionals can get the job done right!
Our certified exterminator professionals are available to take of your bug problems, perform real estate inspections, perform moisture inspections and control moisture problems. Working the Roanoke and Southwestern Virginia area, give us a call at 540-309-7007 to schedule your free inspection, follow on services, or start new services.